Wiremesh Type Cable Tray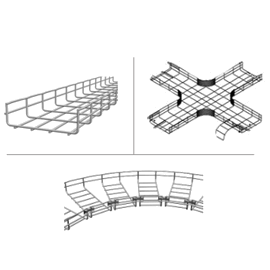 WIRE MESH CABLE TRAY
BEND 90°
TEE BRANCH
VERTICAL 90 OUTSIDE RISER
VERTICAL 90 INSIDE RISER
REDUCER
Wire Mesh Cable Tray
Product Description: Techtray is a wire mesh cable tray system that utilizes high mechanical strength steel wire that is welded into a grid system. This grid system is then formed into channels which support and carry cables. The wire mesh will consist of a 2"(50mm) x 2"(50mm) grid system or 2"(50mm) x 4"(100mm), and would use wires that have a minimum diameter of 0.16" (4mm) or as specified.
Material: Standard tray finish shall be mill- galvanized. Other finish options include Electroplated Zinc, Hot Dipped Galvanized after Fabrication, Clear Zinc, Painted or Stainless Steel
Safety Edge: Wire mesh system shall have continuous top edge wire that is T-Welded on top of support wires to avoid sharp edges that may damage cable or installer.
Fittings: Shall be fabricated in the field by cutting wires with a cutting device. Cuts shall be made in a manner reducing sharp edges and projections so they do not harm cables or installation personnel. Manufacturer shall offer corner connectors that provide a radius on the inside corner of bends for horizontal 90 degree bends, tees, and crosses.
Wire mesh shall be welded at all intersections.
Mesh system will permit continuous ventilation of cables and maximum disposition of heat.
Wire Mesh Cable Tray comes in 2500mm or 3000mm as required. It could be easily modified and combined as and when required.
Smooth edge and round wires minimize dust buildup and when galvanized reduces corrosion resulting in longer life and providing durability.
Mesh size of 50mm x 100mm allows cable to be routed into and out of the tray at any point with much ease and convenience without cutting the tray.
Available with client specified sidewalls size to hold cable in the tray and in a variety of widths to accommodate different numbers of cables it is very convenient to install and easy for maintenance if required.
---
Wire Mesh Cable Tray Fill Ratio
Fill ratio = Cross section of cable/Cross section of tray
According to NEC 392.9 (B), the sum of the crossectional area shall not exceed 50 percent of the interior cross section of the tray. Use the following Formula to calculate the number of cables that will result in a particular fill ratio, where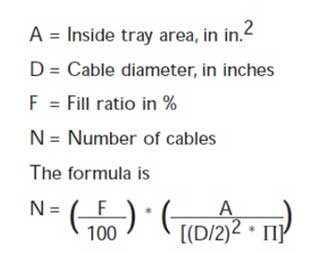 Wire Mesh Cable Tray Fill and Load Calculations
Tables and formulas provided below are to help determine how many cables can be safely carried by each size wire mesh cable tray.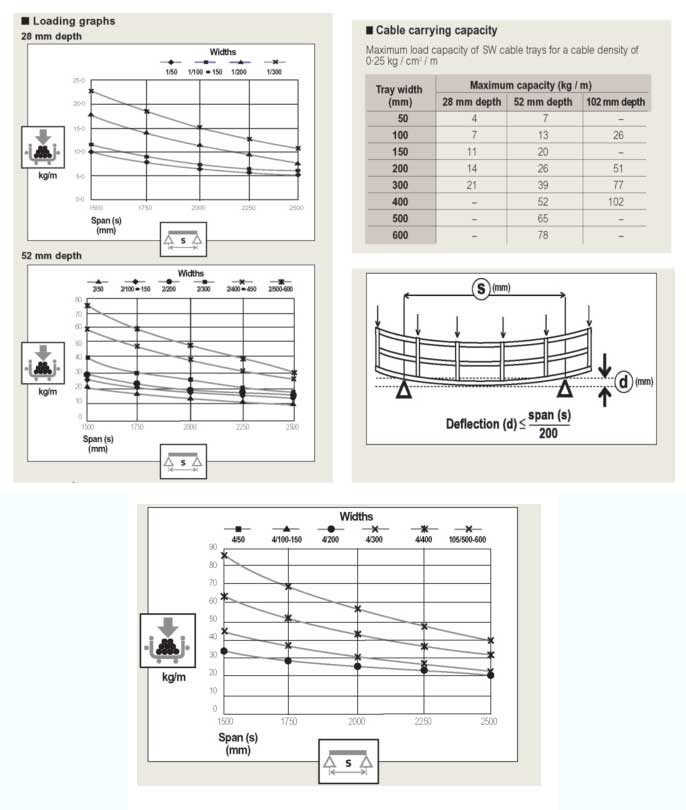 ---